Don't Let Your Restaurant Shut Down
We're here to help! Call
(703) 330-3491

right away.
Our Services
How We Can Help You
Manassas Park Sewer Services
24/7 Emergency Sewer Repair in Northern Virginia
The sewer system is an essential part of your home and business. When the sewer system is not working properly, it can create a huge amount of damage and inconvenience. At 24/7 Grease Trap & Plumbing, we offer Manassas Park sewer services to keep your sewage system in top condition.
If you suspect there is a problem with your sewer system, give us a call for expert service. Our team of highly trained and experienced plumbers can quickly diagnose the issue and provide the best sewer repair for your situation.
We offer honest, fair pricing, and excellent customer service. Contact us today to schedule your sewer service in Manassas Park.
Sewer Services We Provide
24/7 Grease Trap & Plumbing can handle any job related to your sewer system. We offer Manassas Park sewer services including repair, cleaning, installation, seepage, re-lining, and excavation.
Some of the most common sewer problems we encounter include:
Clogged drains: A clog can be caused by a number of items, including grease, hair, and soap scum. We can use a number of methods to clear the clog, including hydro jetting and drain snaking.
Leaking drains: A leaky drain can cause significant water damage to your home. We can quickly locate and repair the leaking drain.
Sewer gas smell: Sewer gas can be a serious health hazard. We can locate the gas and seal it off to prevent it from entering your home.
Sewer line blockage: The sewer line can become clogged with debris that can't pass through. We can use a number of methods to clear the blockage, including hydro jetting and snaking.
Sewer line corrosion: The sewer line can become corroded over time and cause a number of issues. We can install a new line and prevent future problems.
Sewer line leaks: A leak in the sewer line can cause significant damage to your property. We can locate and repair the leak quickly.
Why You Should Schedule Sewer Services Regularly
The sewer system is not something that we often think about until it stops working. However, it is important to schedule regular sewer services to prevent problems from occurring in the first place. Preventative maintenance can save you time and money in the long run.
Our plumbers can provide a number of services to keep your sewer system in top condition. We can clean out your system, inspect the pipes, and replace any parts that are outdated or damaged. A routine cleaning and inspection can help prevent future problems.
24/7 Emergency Sewer Repair in Northern Virginia
24/7 Grease Trap & Plumbing offers Manassas Park emergency sewer services. We are available 24 hours a day, 7 days a week, and even on holidays. We can respond quickly when you need help with your sewer system.
Once you call us, we'll send a fully trained and experienced plumber to your home or business. We can diagnose the problem and provide you with a solution. We can also perform any necessary repairs to get your sewer system back in top condition.
Call us at (703) 330-3491 to schedule your Manassas Park sewer service.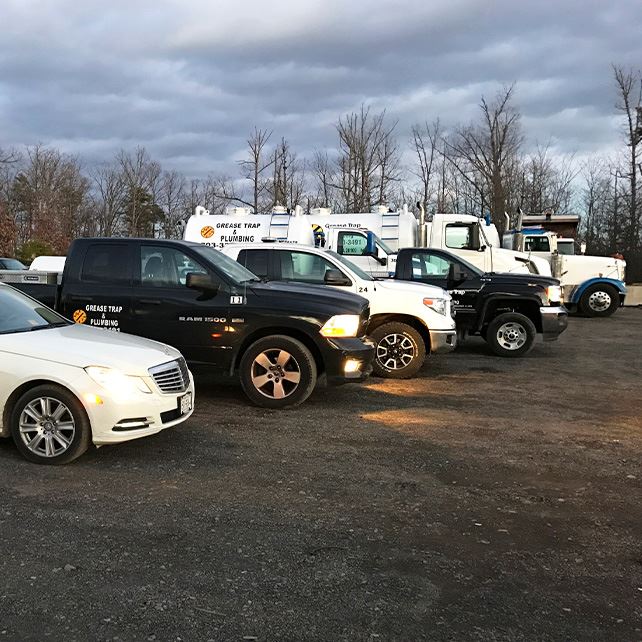 We Put Your Needs First!


If you've been disappointed by a poor plumber experience in the past, 24/7 Grease Trap & Services is here to change your perceptions. We prioritize delivering exceptional customer service on top of the high quality of plumbing solutions we provide. From the moment you give us a call to the completion of the job, we aim to exceed your expectations.
Hear From Our Happy Customers
Reviews & Testimonials
At 24/7 Grease Trap & Services, your satisfaction is our priority! See for yourself what people have to say about working with us.
"Prompt & Professional"

Excellent company with fantastic customer service. 24-7 Grease Trap and Plumbing responded within hours on a weekend of being notified of my septic tank emergency where my pump tank needed emptying due to pump issues.

- John B.

"Thank you!"

They were efficient and got the job done quickly. They also offered some advice on better care for my septic system which I appreciated.

- Jim H.

"Thank You"

We were very favorably impressed with all aspects of the experience.

- Marvin K.

"Great job!"

Competitive pricing, friendly to work with, on time, neat, and professional. Just exactly what I wanted.

- Mike O.

"Super Professional"

Extremely professional, courteous, very aware, and quick. Did the job in an orderly manner.

- Peter J.

"Highly Recommend!"

They were great! Both tanks were overflowing and they were helpful in determining what needed to be done.

- Eve Z.

"Saved us!"

The only company to respond when we had an emergency with our septic system! And they called back immediately and showed up quickly. Did a great job. We've used them twice so far.

- Christel L.

"Quick & Professional"

I was pleased to have a truck scheduled when I wanted. The driver came and did his job quickly and professionally. He was obviously an experienced worker, and he was courteous and friendly. It was nice that he had no problem with my big dog.

- Martha J.

"Excellent Service"

Had 24/7 pump my septic and the service was excellent. They showed up on time, were professional and efficient, and got the job done. Customer service over the phone to arrange the work was also excellent. I'll go back to them in the future.

- Ric Y.