Don't Let Your Restaurant Shut Down
We're here to help! Call
(703) 330-3491

right away.
Our Services
How We Can Help You
Same-Day Leak Detection Services in Manassas
24/7 Leak Detection & Repair in the D.C. Metro Area
When a leak occurs in your home, it can be very stressful. Not only can it cause damage to your property, but it can also cause you to incur high water bills. The good news is that our team at 24/7 Grease Trap & Plumbing is here to help. Our skilled technicians provide high-quality same-day leak detection services for customers in Manassas Park, VA, and throughout Northern Virginia. Our team is available to provide services 24 hours a day, 7 days a week.
We offer two types of leak detection services:
Inspection: Our experienced technicians use a variety of tools, including video cameras and listening devices, to determine the exact location of the leak.
Ultrasonic: Our technicians use advanced ultrasonic technology to pinpoint the location of the leak.
---
Call 24/7 Grease Trap & Plumbing at (703) 330-3491 to schedule an appointment for leak detection in Manassas Park, VA.
---
What Are the Benefits of Leak Detection?
There are several benefits of leak detection, including:
Detecting a leak before it causes significant damage
Reducing the amount of water wasted
Helping to determine the source of the leak
Signs You Have a Water Leak
Water leaks can lead to costly damage if left undetected. It's important to recognize the signs of a water leak to address the issue promptly.
Increased Water Bill: A sudden unexplained spike in your water bill could indicate a hidden water leak.
Damp or Moldy Odors: Musty or moldy smells in certain areas of your home may suggest water is seeping somewhere.
Water Stains: Discoloration or watermarks on walls, ceilings, or floors can be a clear sign of water leakage.
Low Water Pressure: A decrease in water pressure throughout your home could be due to a hidden leak.
Sounds of Running Water: If you can hear the sound of running water when no taps are on, it could indicate a leak.
Visible Water Damage: Puddles, wet spots, or bubbling paint are indications of active water leaks.
If you notice any of these signs, it's crucial to contact a professional plumber to locate and repair the water leak promptly, preventing further damage.
---
Contact us today to schedule your leak detection appointment.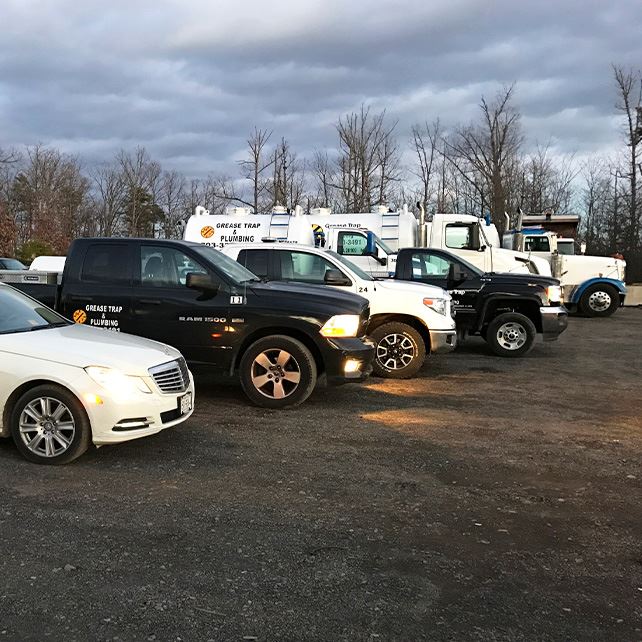 We Put Your Needs First!


If you've been disappointed by a poor plumber experience in the past, 24/7 Grease Trap & Services is here to change your perceptions. We prioritize delivering exceptional customer service on top of the high quality of plumbing solutions we provide. From the moment you give us a call to the completion of the job, we aim to exceed your expectations.
Hear From Our Happy Customers
Reviews & Testimonials
At 24/7 Grease Trap & Services, your satisfaction is our priority! See for yourself what people have to say about working with us.
"Thank You"

We were very favorably impressed with all aspects of the experience.

- Marvin K.

"Quick & Professional"

I was pleased to have a truck scheduled when I wanted. The driver came and did his job quickly and professionally. He was obviously an experienced worker, and he was courteous and friendly. It was nice that he had no problem with my big dog.

- Martha J.

"Great job!"

Competitive pricing, friendly to work with, on time, neat, and professional. Just exactly what I wanted.

- Mike O.

"Gained a New Loyal Customer"

The service was excellent and the cost was very reasonable.

- Eddie G.

"Grease Trap & Plumbing did a wonderful job."

They were prompt, they located the septic tank, and they filled the hole that they dug with no problems afterward.

- Angela T.

"Reasonable & Reliable"

These people are amazing. We had a problem with our toilet overflowing and determined the septic tank was full. He showed up 10 minutes before the time he said he would arrive.

- Kevin J.

"Thank you!"

They were efficient and got the job done quickly. They also offered some advice on better care for my septic system which I appreciated.

- Jim H.

"Prompt & Professional"

Excellent company with fantastic customer service. 24-7 Grease Trap and Plumbing responded within hours on a weekend of being notified of my septic tank emergency where my pump tank needed emptying due to pump issues.

- John B.

"Above & Beyond"

The technician went above and beyond on our job since we had no idea where our septic tank was. Turns out we had two, which thanks to him we were made aware of. Great job!

- Russell B.