Don't Let Your Restaurant Shut Down
We're here to help! Call
(703) 330-3491

right away.
Our Services
How We Can Help You
Piping & Repiping in Manassas
At 24/7 Grease Trap & Plumbing, we understand how important it is to have a reliable and efficient plumbing system in your home or business. As experienced plumbers, we offer top-notch piping and repiping services to ensure that your plumbing system is functioning at its best.
Our skilled and licensed plumbers have the expertise to handle any piping or repiping job, whether it's a small residential project or a large commercial one. We use only the latest tools and techniques to ensure that your pipes are installed or replaced quickly and efficiently, with minimal disruption to your daily routine.
Benefits of Repiping Your Manassas Home
Repiping your Manassas home is a significant investment that offers numerous advantages, from improved plumbing performance to long-term cost savings. Here are the key benefits to consider:
Benefits of Repiping Your Manassas Home:
Enhanced Water Quality: New pipes can improve water quality by eliminating rust, corrosion, and contaminants present in older plumbing systems.
Improved Water Pressure: Repiping can restore proper water pressure, ensuring efficient use of appliances and fixtures.
Prevent Leaks: Replacing aging pipes reduces the risk of leaks and water damage, potentially saving you from costly repairs.
Energy Efficiency: New pipes may contribute to better energy efficiency, as they reduce heat loss in hot water pipes, lowering energy bills.
Increased Home Value: Repiped homes often have higher resale values, making it a worthwhile investment in your property.
Repiping your home not only ensures reliable plumbing but also enhances the overall quality of life for you and your family. It's a proactive step that provides peace of mind, improved performance, and potentially significant cost savings in the long run.
---
Contact 24/7 Grease Trap & Plumbing today for a consultation on a repiping job for your home.
---
Signs Your Plumbing Needs Repiping
Your plumbing system plays a crucial role in your home's functionality, and over time, it may show signs that it needs repiping. Recognizing these indicators can prevent plumbing emergencies and safeguard your property.
Signs Your Plumbing Needs Repiping:
Frequent Leaks: If you're experiencing multiple pipe leaks or bursts, it may indicate that your pipes have become compromised and need replacement.
Low Water Pressure: Reduced water pressure throughout your home can be a sign of aging, corroded pipes that restrict water flow.
Rusty or Discolored Water: Brown or rusty water coming from your taps suggests pipe corrosion, which can affect water quality.
Strange Noises: The sound of clanging, banging, or gurgling pipes can indicate deteriorating plumbing.
Fluctuating Water Temperature: Inconsistent hot water supply may be due to mineral buildup or damaged pipes.
If you notice these signs, it's advisable to consult a professional plumbing service for an assessment. Repiping your plumbing system can enhance its performance, improve water quality, and prevent costly plumbing emergencies in the future, ensuring a reliable and efficient water supply in your home.
---
Contact us today to speak with our professional plumbers to see if repiping is right for you!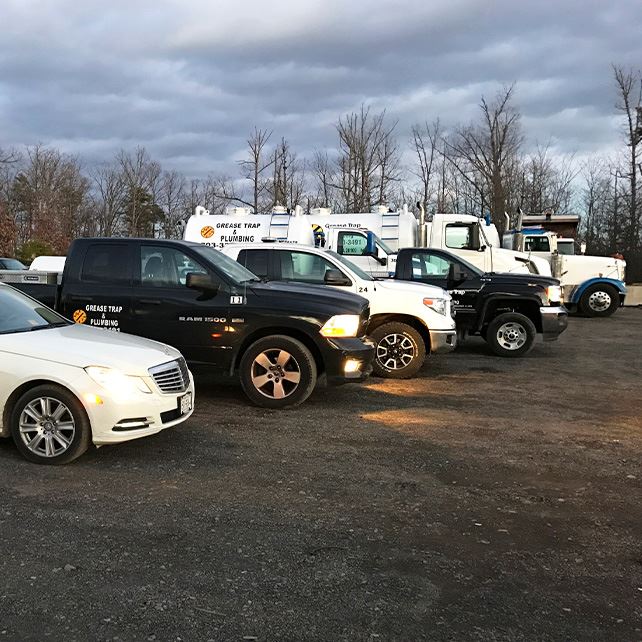 We Put Your Needs First!


If you've been disappointed by a poor plumber experience in the past, 24/7 Grease Trap & Services is here to change your perceptions. We prioritize delivering exceptional customer service on top of the high quality of plumbing solutions we provide. From the moment you give us a call to the completion of the job, we aim to exceed your expectations.
Hear From Our Happy Customers
Reviews & Testimonials
At 24/7 Grease Trap & Services, your satisfaction is our priority! See for yourself what people have to say about working with us.
"The Ultimate Professional"

He was prompt, professional, explained everything he was doing and cleaned up after himself. He was the ultimate professional.

- Gregg H.

"Thank you!"

They were efficient and got the job done quickly. They also offered some advice on better care for my septic system which I appreciated.

- Jim H.

"Great job!"

Competitive pricing, friendly to work with, on time, neat, and professional. Just exactly what I wanted.

- Mike O.

"Quick & Professional"

I was pleased to have a truck scheduled when I wanted. The driver came and did his job quickly and professionally. He was obviously an experienced worker, and he was courteous and friendly. It was nice that he had no problem with my big dog.

- Martha J.

"Gained a New Loyal Customer"

The service was excellent and the cost was very reasonable.

- Eddie G.

"In and Out"

Prompt response and scheduling, workers very polite, price reasonable.

- Mary J.

"Prompt & Professional"

Excellent company with fantastic customer service. 24-7 Grease Trap and Plumbing responded within hours on a weekend of being notified of my septic tank emergency where my pump tank needed emptying due to pump issues.

- John B.

"Above & Beyond"

The technician went above and beyond on our job since we had no idea where our septic tank was. Turns out we had two, which thanks to him we were made aware of. Great job!

- Russell B.

"Thank You"

We were very favorably impressed with all aspects of the experience.

- Marvin K.