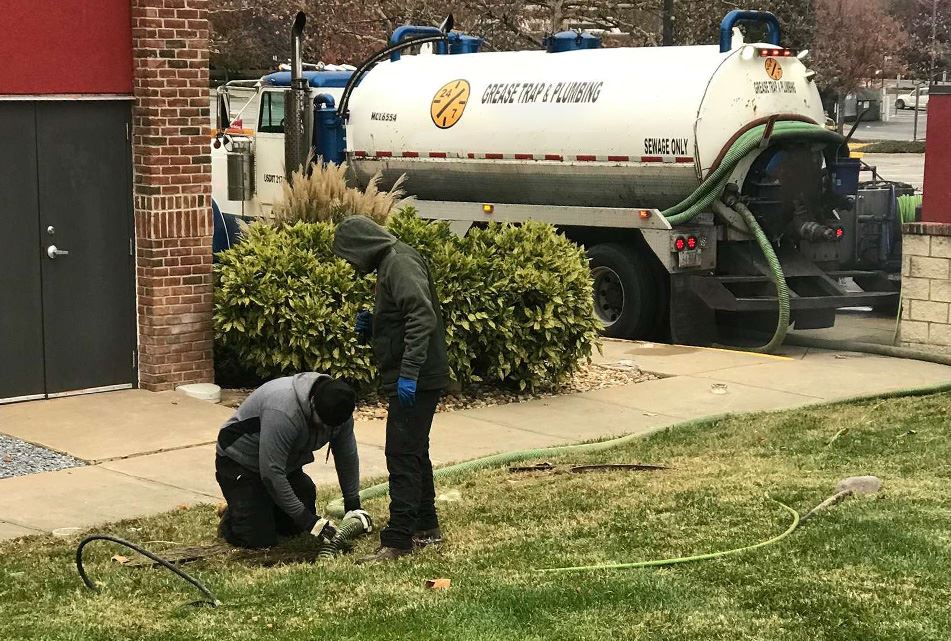 Septic Pumping in Manassas
Keeping Septic Systems Running Smoothly Throughout The DC Metro Area
Septic tanks are an important part of home plumbing systems, as they store and treat wastewater before it is released into the environment. Properly functioning septic tanks are essential for ensuring that your home's plumbing system runs smoothly and efficiently.
However, when a septic tank becomes damaged or flooded, it can cause serious issues with your home's plumbing. A damaged or flooded tank can lead to costly repairs and even long-term environmental damage if not addressed properly. That's why it's important to have regular inspections of your septic system to ensure everything is running smoothly.
At 24/7 Grease Trap & Services, we understand the importance of having a properly functioning septic system. We are proud to offer septic pumping services throughout the DC Metro Area. Our Woman-Owned minority business has helped thousands of customers over the years address all their plumbing problems, including septic issues.
If your home's septic tank needs attention, don't wait to get it serviced. Contact 24/7 Grease Trap & Services today and let us help you keep your septic system running smoothly! Call (703) 330-3491 or complete our form to schedule services. We look forward to helping you with all of your plumbing needs!
Why Choose 24/7 Grease Trap & Services?
What Makes Us Different
Proudly Serving the D.C. Metro Area from Richmond to Baltimore.
We Offer Emergency Services

Don't sit around and wait for a plumber. We're here for you!

Women & Minority Owned Business

We are a certified 8A business proudly serving the entire D.C. Metro area.

Around-the-Clock Help

We're here to help you whenever you need us.

Providing Service in Spanish

Our team is proud to help with Spanish services.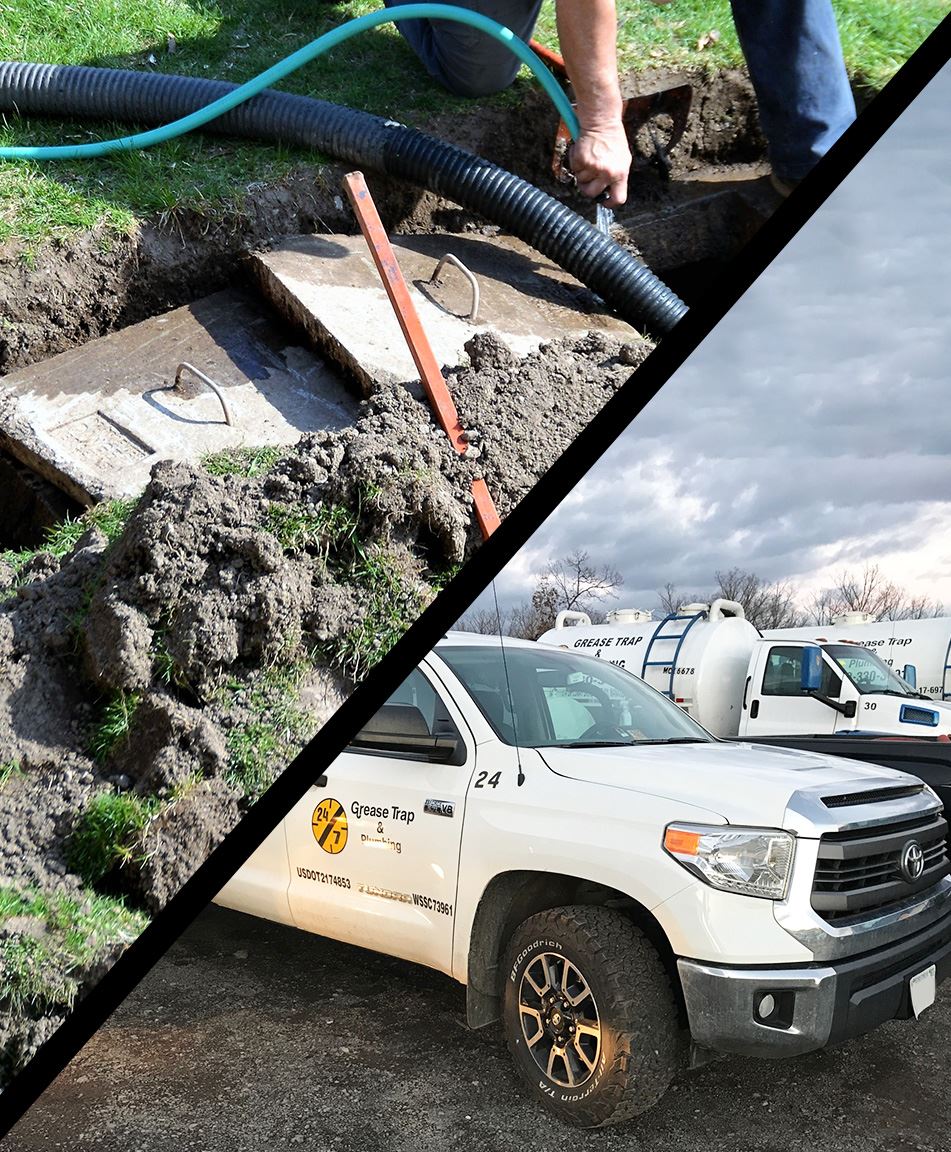 Hear From Our Happy Customers
Reviews & Testimonials
At 24/7 Grease Trap & Services, your satisfaction is our priority! See for yourself what people have to say about working with us.
"Reasonable & Reliable"

These people are amazing. We had a problem with our toilet overflowing and determined the septic tank was full. He showed up 10 minutes before the time he said he would arrive.

- Kevin J.

"In and Out"

Prompt response and scheduling, workers very polite, price reasonable.

- Mary J.

"Saved us!"

The only company to respond when we had an emergency with our septic system! And they called back immediately and showed up quickly. Did a great job. We've used them twice so far.

- Christel L.

"Gained a New Loyal Customer"

The service was excellent and the cost was very reasonable.

- Eddie G.

"Prompt & Professional"

Excellent company with fantastic customer service. 24-7 Grease Trap and Plumbing responded within hours on a weekend of being notified of my septic tank emergency where my pump tank needed emptying due to pump issues.

- John B.

"The Ultimate Professional"

He was prompt, professional, explained everything he was doing and cleaned up after himself. He was the ultimate professional.

- Gregg H.

"Super Professional"

Extremely professional, courteous, very aware, and quick. Did the job in an orderly manner.

- Peter J.

"Excellent Service"

Had 24/7 pump my septic and the service was excellent. They showed up on time, were professional and efficient, and got the job done. Customer service over the phone to arrange the work was also excellent. I'll go back to them in the future.

- Ric Y.

"Above & Beyond"

The technician went above and beyond on our job since we had no idea where our septic tank was. Turns out we had two, which thanks to him we were made aware of. Great job!

- Russell B.
Your Trusted Team for Septic Tank Pump-Outs
Our team of master plumbers is highly experienced in all aspects of septic maintenance and repair. We perform septic pump-outs using high-quality tools and equipment, ensuring no further mess. Even if you have an emergency situation due to a damaged or flooded tank, our team is available 24/7 for any emergencies that might arise.
When you call us to conduct a septic pump out, we do the following:
Inspect the integrity of your septic tank
Pump out any water and waste in the tank
Perform maintenance on the entire septic system to ensure everything is running correctly
Provide advice and guidance on how to keep your septic system running smoothly going forward.
If you notice any signs of septic problems such as water or sewage backing up in your drains, slow drains, gurgling sounds, or unpleasant odors near the septic tank, it's best to act quickly. Our plumbing experts in the Manassas area advise contacting us right away to prevent the issue from getting worse.
Tips to Keep Your Septic Tank Running Well
Maintaining a septic tank is not something most people think about until it's too late and they need to hire someone to perform a pump-out. After hiring 24/7 Grease Trap & Services, you don't want history to repeat itself in the future.
To keep your septic system running well and avoid costly repairs or replacements, here are some helpful tips:
Have your septic tank pumped regularly by a professional plumbing service like 24/7 Grease Trap & Services.
Avoid using chemicals that can damage the bacteria within the tank which helps with decomposition.
Keep water usage at minimum levels as overloading the system can cause backups or overflows.
Don't flush things down toilets that aren't meant for it such as paper towels, sanitary items, etc. • Make sure all drains have strainers to stop large objects from entering into your pipes and causing blockages.
If you notice any signs of trouble such as wet spots near the tank area or slow-draining sinks and tubs, call us quickly so we can take care of it right away before bigger problems arise!
Don't delay, call us today and let us restore your septic system! Schedule an appointmentnow and let the professionals at 24/7 Grease Trap & Services take care of everything for you quickly and efficiently. We guarantee that you will be satisfied with our septic pumping services wherever you stay in Manassas and the Metro DC area.

Available 24 / 7 / 365
Make

24/7 Grease Trap & Services Your First Choice