Grease Trap Pumping & Cleaning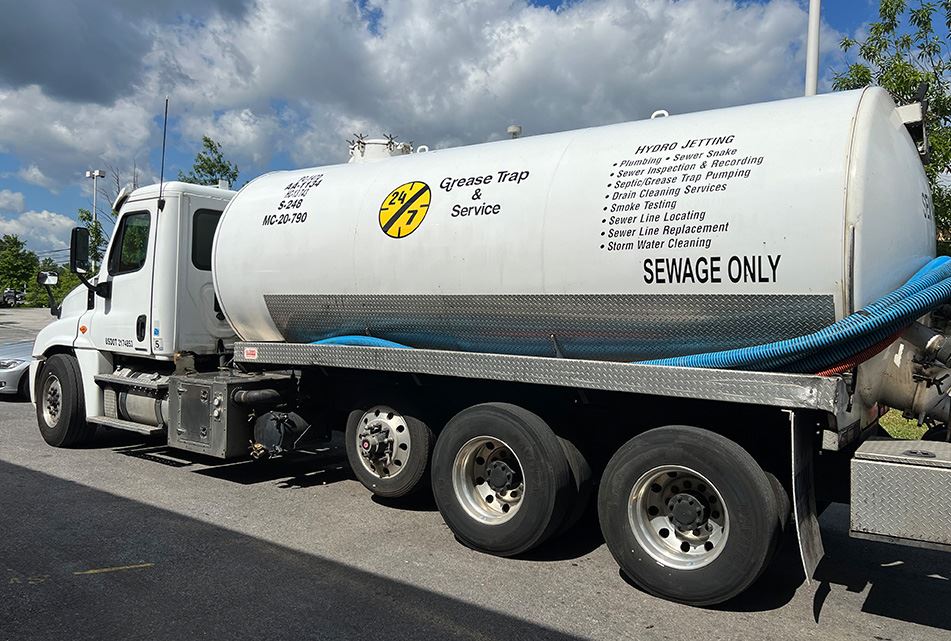 Grease Trap Pumping & Cleaning in Manassas
Professional Grease Trap Cleaners Available 24/7
When it comes to kitchen plumbing, one of the most important elements is a grease trap. Grease traps are designed to stop grease and oil from entering the plumbing system and causing blockages. As these fats, oils, and greases (FOGs) accumulate over time, they must be cleaned out or else problems can occur.
At 24/7 Grease Trap & Services, our master plumbers use the latest equipment and techniques to effectively clean out any kitchen's grease traps. We offer fast and efficient service at an affordable price so your kitchen stays up and running with minimal disruption. With years of experience in the industry, we understand how quickly grease traps can become clogged if not properly maintained.
Our team can thoroughly inspect your grease trap for buildup and remove all FOGs from your plumbing lines. We also offer preventative maintenance services that help increase efficiency in kitchens and reduce unplanned downtime due to clogging or other issues related to neglected grease traps.
To ensure that your kitchen's plumbing remains healthy, contact our team at 24/7 Grease Trap & Services today! We are available 24/7 for all of your grease trap cleaning needs – just dial (703) 330-3491 or contact us online to schedule an appointment for a quick quote. Hablamos español!
Why Choose 24/7 Grease Trap & Services?
What Makes Us Different
Proudly Serving the D.C. Metro Area from Richmond to Baltimore.
We Offer Emergency Services

Don't sit around and wait for a plumber. We're here for you!

Women & Minority Owned Business

We are a certified 8A business proudly serving the entire D.C. Metro area.

Around-the-Clock Help

We're here to help you whenever you need us.

Providing Service in Spanish

Our team is proud to help with Spanish services.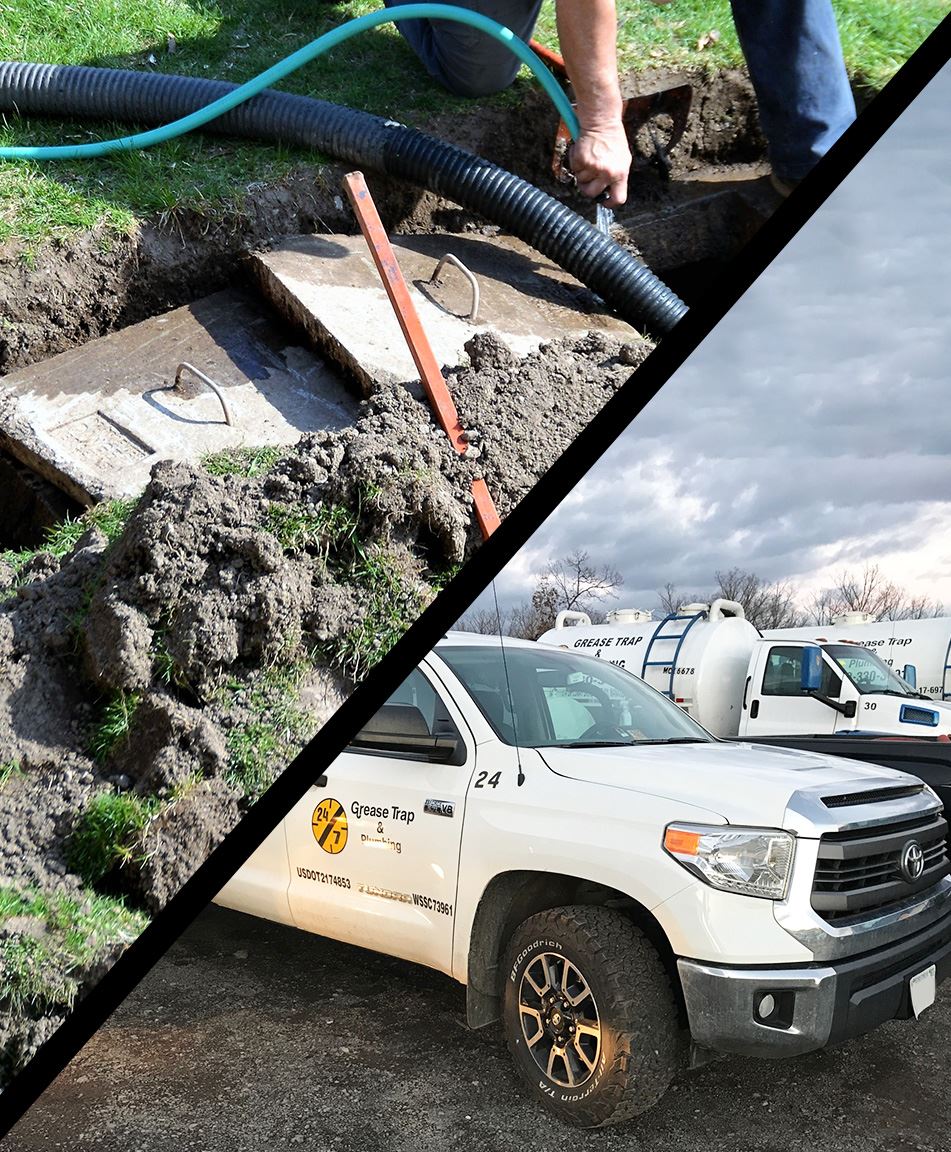 Hear From Our Happy Customers
Reviews & Testimonials
At 24/7 Grease Trap & Services, your satisfaction is our priority! See for yourself what people have to say about working with us.
"Thank you!"

They were efficient and got the job done quickly. They also offered some advice on better care for my septic system which I appreciated.

- Jim H.

"Gained a New Loyal Customer"

The service was excellent and the cost was very reasonable.

- Eddie G.

"Thank You"

We were very favorably impressed with all aspects of the experience.

- Marvin K.

"Reasonable & Reliable"

These people are amazing. We had a problem with our toilet overflowing and determined the septic tank was full. He showed up 10 minutes before the time he said he would arrive.

- Kevin J.

"Prompt & Professional"

Excellent company with fantastic customer service. 24-7 Grease Trap and Plumbing responded within hours on a weekend of being notified of my septic tank emergency where my pump tank needed emptying due to pump issues.

- John B.

"Super Professional"

Extremely professional, courteous, very aware, and quick. Did the job in an orderly manner.

- Peter J.

"Great job!"

Competitive pricing, friendly to work with, on time, neat, and professional. Just exactly what I wanted.

- Mike O.

"In and Out"

Prompt response and scheduling, workers very polite, price reasonable.

- Mary J.

"Grease Trap & Plumbing did a wonderful job."

They were prompt, they located the septic tank, and they filled the hole that they dug with no problems afterward.

- Angela T.
Grease Trap Cleaning & Maintenance for Metro DC Restaurants
If your restaurant's grease trap isn't properly maintained, it can quickly become clogged and cause a backup. This kitchen nightmare can turn your entire business upside down, causing costly damage and unplanned downtime for repairs. Grease trap backups are common in restaurants across Metro DC, but the good news is that they can be prevented with regular maintenance from experienced professionals.
Here's what you may notice if your grease trap is overly clogged:
Slow-draining sinks or toilets
Unpleasant odors coming from drains
Gurgling sounds when water is running through pipes
Water backing up into sink basins or other fixtures
Foul-smelling sludge in drains or on the floor near traps
24/7 Grease Trap & Services has the experience and expertise to inspect, pump out, repair, or replace any restaurant grease trap in Manassas. Our technicians are available 24/7 and ready to respond promptly whenever you need help.
How We Tackle Grease Trap Cleanings
At 24/7 Grease Trap & Services, our team of master plumbers is committed to providing the highest quality grease trap cleaning and maintenance services. We use the latest tools and technology to quickly address any backups or clogs that may be affecting your kitchen's plumbing system. When we respond to a call, we mobilize quickly and arrive onsite with all the necessary equipment to get the job done right.
Our comprehensive grease trap cleaning services include:
Thoroughly inspect grease traps for buildup
Remove FOGs from plumbing lines
Offer preventative maintenance services to increase efficiency in kitchens
Pump out existing fats, oils, and greases (FOGs)
Repair or replace damaged components with minimal disruption
Use advanced techniques and equipment when necessary
Contact us today to learn more about our grease trap pumping and cleaning services in Manassas!
Dial (703) 330-3491or contact us online to schedule an appointment.

Available 24 / 7 / 365
Make

24/7 Grease Trap & Services Your First Choice